Experience the thrill of growing spray-free button mushrooms at home!
🍄 Introducing the Only Kit of its type in New Zealand 🍄
Our Button Mushroom Grow Kit is the first and only one of its kind in the country. As an early adopter, you have the exclusive opportunity to dive into the world of home mushroom cultivation like never before.
🌱 Nurture Growth and Flavour🌱
Whether you're a seasoned gardener or just discovering your green thumb, our kit offers an exciting chance to nurture and harvest Kiwi's beloved button mushrooms.
🎁 A Unique Gift for Loved Ones 🎁
Our kits are also the perfect gift for the fungi enthusiast in your life. Don't let them miss out on the chance to be among the first to cultivate their own button mushrooms at home.
Order Now and Watch these Button Mushrooms Flourish!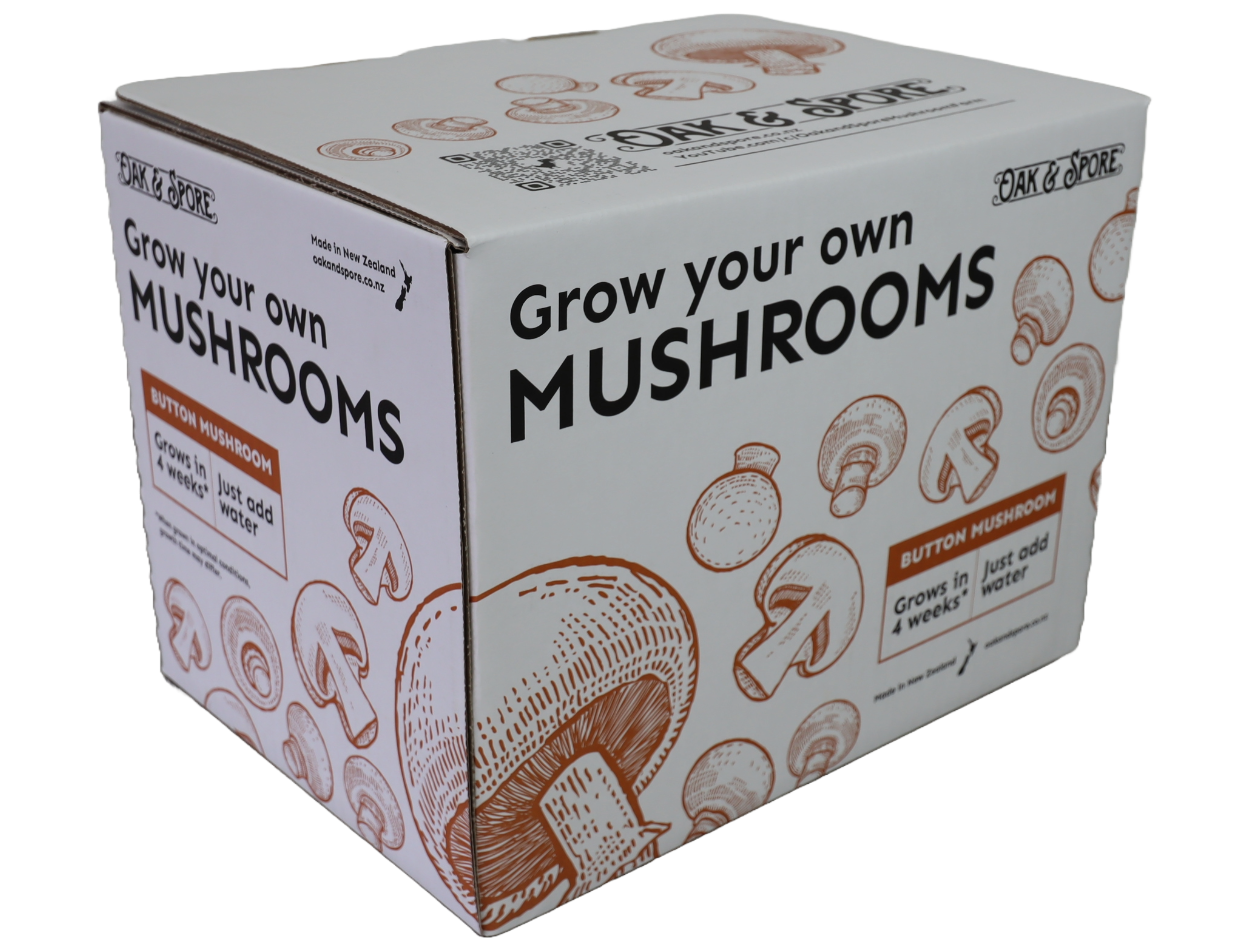 Button Mushroom Grow Kit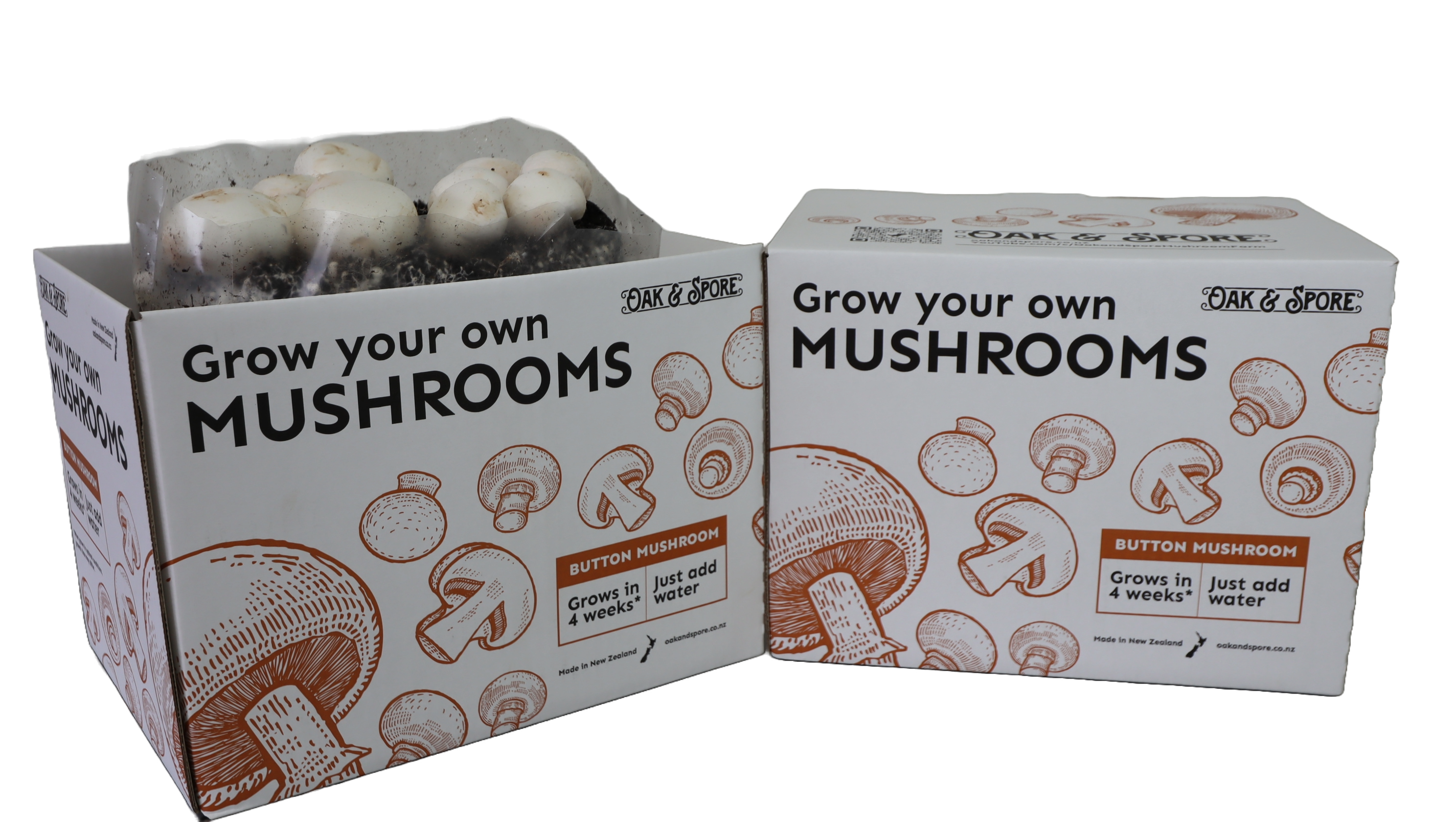 Button Mushroom Grow Kit - 2 Pack
Why Get Your Hands On An Oak & Spore Mushroom Kit?
They're a fantastic gift idea for yourself or a loved one, such as fungi enthusiasts, hobbyists, green thumbs, foodies, or someone hard to buy for!
Compared to store-bought mushrooms, homegrown Oak and Spore mushrooms are superior in many ways. They're often larger, tastier, and retain more nutrients since they haven't travelled or sat on shelves (in other words, they're as fresh as you can get!)
Our kits make growing mushrooms as easy as 1-2-3: just open, spray and grow! Anyone with zero gardening experience can successfully grow their own mushrooms.
Anyone can enjoy this fun process with the family from the comfort of home. No fancy outdoor set ups, soils or existing gardens needed.
Don't just take our word for it - see what some of our happy customers have to say about their experience growing shrooms
This is the most excitement I've had in months. That makes me sound really boring but it's just so much fun watching something grow from nothing. My husband and I have tried growing all sorts of vegetables without success so now we will turn our attention to fungi. I can't wait to try them, hopefully in a few more days…
Zoe
An excellent and much appreciated gift for my partner. She is a high school librarian and she has the box in her office, pupils are interested in the process of growth. The information from Oak & Spore was excellent, delivery the day before the 14th. Bonus is I'll get to eat some of the product!
Jonathan C.
The mushroom media arrived packed in it's box and complete with excellent instructions. I followed the instructions and voila, we had a beautiful crop of pink mushrooms in a week!! I Googled recipes and settled on pan frying with garlic and thyme. Beautiful!!! I highly recommend this product and will definitely be ordering again.
Tracey T.
Join us in this mushroom-growing adventure and redefine your culinary experience from the ground up.
Don't delay – seize this exclusive opportunity while it lasts.